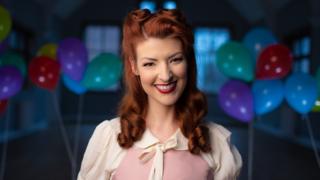 On World Mental Health Day, a disabled presenter shares her simple secrets of happiness.
Jessica Kellgren-Fozard gets a real kick out of life's small pleasures – a beautiful dress, a warm bath, or a good night's sleep (on a good day, all three).
The YouTuber, who has more than half a million subscribers to her channel, is deaf, partially visually impaired and has a rare autoimmune disorder, MCTD, as well as a nerve disorder, HNPP.
Such chronic disabilities may make her life tough at times, but she's determined not to let them define it.
"Because the medical condition that I live with is very unpredictable, I can wake up one morning and not have the use of my legs," she tells the BBC.
"Or I wake up in the morning – when I was fine the day before – and now all I can do is vomit and I can't lift my head and it's like, 'oh, right!' Because of that I never know what tomorrow is going to be, so I've kind of I've got to just enjoy now – otherwise, who knows?"
She adds: "I have to do the fun things now, I can't just be waiting."
Kellgren-Fozard lives in Brighton with her wife Claudia (and dogs Walter and Tilly). Their relationship even has its own Instagram page, "for people who enjoy adorable and quite cheesy lesbians". On her channel she posts about a wide range of topics from why you don't have to…


Please follow article at original source BBC top news