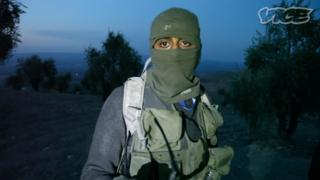 A British student has been jailed for al-Qaeda membership – after police used voice recognition to identify him as a masked man who made a militant speech in Syria on a YouTube video in 2013.
Mohammed Yamin, 26, from east London, had long returned from the conflict and resumed normal life.
But after he was spotted acting suspiciously in Whitehall in June 2017, detectives made the connection.
At the Old Bailey, Yamin was sentenced to 10 years and six months in prison.
His face had been hidden by a mask in the Syria footage, which was originally recorded for a documentary by Vice News, uploaded by them to YouTube and subsequently viewed by nearly one million people.
But when police stopped and questioned him in Whitehall four years later, they recorded the encounter on body-worn cameras and this was later checked using both facial and voice recognition technology.
Judge Mark Dennis, who jailed Yamin, said the Syria footage showed he had held "entrenched extremist views and fully supported the use of violence".
He added that Yamin had pursued a "law-abiding life" since returning to the UK and rejected extremism.
In June 2017 – a time of heightened security after several terror attacks – police…


Please follow article at original source BBC top news