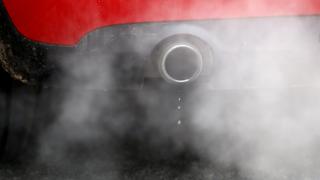 Sudden spikes in air pollution in the UK trigger hundreds more heart attacks, strokes and acute asthma attacks on those days, research suggests.
A team at King's College London looked at data from London, Birmingham, Bristol, Derby, Liverpool, Manchester, Nottingham, Oxford and Southampton.
Days when pollutant levels were in the top half of the annual range saw an extra 124 cardiac arrests on average.
NHS England boss Simon Stevens said it was evidence of "a health emergency".
The figure is based on ambulance call data and does not count heart attacks suffered by patients already in hospital.
It points to significant short-term health risks caused by air pollution, on top of contributing to almost 500,000 premature deaths in Europe every year.
On days with high pollution levels, across the nine cities in total, there was an average of 231 additional hospital admissions for stroke, with an extra 193 children and adults taken to hospital for asthma treatment.
Dr Heather Walton, of King's College London's Environmental Research Group, said air pollution reduction policies concentrated in the main on effects connected to life expectancy.
"However, health studies show clear links with a much wider range of health effects," she added.


Please follow article at original source BBC top news