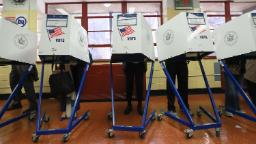 Voters may be casting ballots for politicians to state government, but their feelings about President Donald Trump will be paramount. That will be on full display in
Tuesday's elections
in
Kentucky
,
Mississippi
and Virginia.
Kentucky's Republican Gov. Matt Bevin would likely be a sitting duck if Tuesday's gubernatorial election were about him. His job approval ratings have continuously been below his disapproval ratings. Even with a late rally in his approval ratings, his net approval (approval – disapproval) rating is hovering around -10 points.
Yet, Bevin has overcome an early deficit against Democratic Attorney General Andy Beshear (whose father was governor). In an average of nonpartisan polls, Bevin actually runs slightly ahead of Beshear, though the race is within the margin of error.
If Bevin does pull out the win, it will be because of Trump. The President won the state by about 30 points in 2016. His net approval rating is about +15 points in Kentucky in an average of recent polls.
The same story seems to be holding in Mississippi. Democratic Attorney General Jim Hood has been popular enough to be reelected multiple times. He was ahead in early polls of the race against Republican Lt. Gov. Tate Reeves.
The polling, though, has shifted in recent months. Reeves is up by about 5 points in an average of nonpartisan polls. Hood could pull it out, though it seems much less likely than at the beginning of the year.
You can't help but think Trump's standing has something…


Please follow article at original source CNN top news