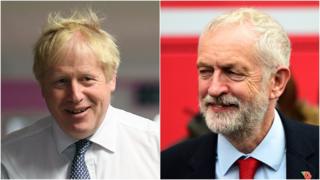 The BBC will host a head-to-head debate between Boris Johnson and Jeremy Corbyn in the run-up to the general election.
The Conservative and Labour leaders will face off live in Southampton on 6 December – six days before the poll.
A seven-way podium debate will also take place between senior figures from the UK's major political parties on 29 November, live from Cardiff.
And the BBC will broadcast several Question Time specials, including a show focused on younger audiences.
Mr Johnson said he was looking forward to the debate, tweeting: "I can't wait to share with you all our positive vision for Britain!"
But Liberal Democrat candidate Chuka Umunna said it was "wrong [and] undemocratic" not to include his party in the head-to-head to represent those who "want to stop Brexit".
Meanwhile, Brexit Party leader Nigel Farage has challenged Mr Johnson to a debate over his Brexit deal, telling an audience in South Wales: "If you are really trying to tell the British public this gets Brexit done, let's have a civilised head-to-head debate on what this EU treaty means."
What is being shown and when?
First up is the Question Time Leaders' Special – hosted by Fiona…


Please follow article at original source BBC top news