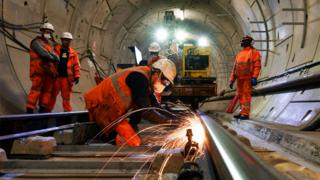 The opening of London's Crossrail project will be delayed until 2021 as Europe's biggest infrastructure scheme is set to go another £650m over budget.
The route, to be known as the Elizabeth Line, was originally due to open in December 2018.
Crossrail Ltd chief executive Mark Wild said services would be delayed to allow time for more testing.
He also said the cost of the project could reach £18.25bn, an increase of £650m on the previously agreed total.
The Department for Transport said it was "considering" where this new funding would come from.
The budget was originally set at £15.9bn for the scheme, which will connect major landmarks such as Heathrow Airport and the Canary Wharf business district.
However, Mayor Sadiq Khan, the Government and Transport for London (TfL) had since agreed a figure of £17.6bn.
Bosses said in April that services would begin between October 2020 and March 2021.
Announcing the latest delay, Mr Wild insisted services would…


Please follow article at original source BBC top news