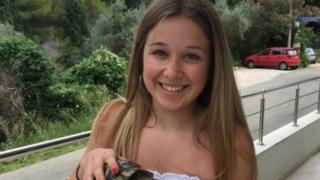 An 18-year-old man stabbed his teenage girlfriend repeatedly in the neck in a brutal killing when she dumped him.
Thomas Griffiths admitted murdering 17-year-old Ellie Gould at her home in Calne, Wiltshire, in May, when she ended their relationship.
The next day, Griffiths, then aged 17, went to the schoolgirl's house, killed her and tried to make it appear she had inflicted the wounds on herself.
Griffiths is being sentenced at Bristol Crown Court.
The packed courtroom heard the night before Griffiths murdered her, Ellie had told friends they had broken up and he had "not taken it well".
The pair were pupils at Hardenhuish School in Chippenham, had known each other since Year 7, and been in a relationship for three months.
Griffiths walked out of school on the morning of 3 May and drove to Ellie's home in Springfield Drive.
There he attempted…


Please follow article at original source BBC top news