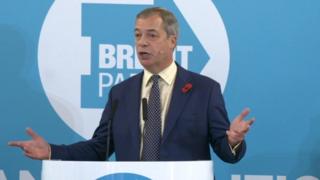 Nigel Farage has said the Brexit Party will try "for a few more days" to agree an election pact with the Tories.
Campaigning in south Wales, he said his party would beat Labour in "many constituencies" in the region if the Conservatives withdrew from the field.
But he said Boris Johnson would have to abandon his deal with the EU, which was "not Brexit" but a "short term political fix" to win the election.
He also challenged the prime minister to a head-to-head debate on the deal.
Speaking at a village hall just outside Pontypool on Friday, he had this message for Mr Johnson: "If you really believe that this is a great new deal or as you said in the last couple of days a fantastic deal, if you are really trying to tell the British public this gets Brexit done let's have a civilised head-to-head debate on what this EU treaty means and I'd be only be too happy to stand with Boris to talk this through."
Last week, Boris Johnson rejected suggestions that he should work with the Brexit Party during the election.
Plaid Cymru, Liberal Democrats and the Greens have agreed a pro-EU electoral pact in 11 of the 40 seats in Wales.
Repeating his call for a leave alliance, Mr Farage said "if that leave alliance was put to the country it would win a very big majority".


Please follow article at original source BBC top news