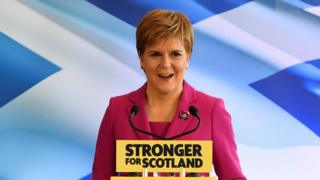 Scotland's First Minister Nicola Sturgeon has launched the Scottish National Party's election campaign in Edinburgh.
She made a few claims worth looking at – the first was about the potential impact of Brexit on Scotland.
Talking about the prospect of the UK leaving the European Union's (EU) single market and customs union, she said: "Economic analysis says that it will cost every person in Scotland £1,600".
The single market is the agreement between EU countries that provides for free movement of people, goods, services and capital, while also having the same regulations about things like food safety, transport and packaging.
The customs union is an agreement to have no taxes charged on trade between EU countries, while charging the same taxes on things coming from outside the bloc.
The figure came from a Scottish government assessment in January 2018 (before either Theresa May's or Boris Johnson's deals).
It estimated that leaving the single market and customs union would mean Scotland's GDP (the value of the total output of the country) would be 6.1% lower by 2030 than it would have been if the UK had stayed in the EU.
It predicted that would knock…


Please follow article at original source BBC top news