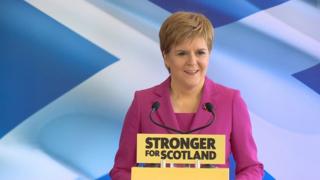 The SNP has launched its election campaign by promising to bring forward legislation to protect the NHS from privatisation and future trade deals.
The NHS Protection Bill would block any UK government from using the NHS as a "bargaining chip" in trade talks.
If passed it would also give devolved parliaments in Scotland, Wales and Northern Ireland a veto on any deal.
SNP leader and Scottish First Minister Nicola Sturgeon said the NHS should not be for sale "at any price".
And she challenged the other parties at Westminster to back the bill to "stop the Tories trading our NHS for trade deals with Donald Trump".
Ms Sturgeon claims that despite health policy being devolved to the Scottish Parliament, the UK government could still "sell off" the NHS in trade negotiations.
Other opposition parties have also expressed concern about the possibility of the NHS being opened up to American healthcare companies in a trade deal, after Mr Trump said "everything was on the table" during a joint press conference with then prime minister Theresa May.
But the UK government has insisted the NHS is "not on the table" for trade talks and is not in any way "up for sale".
The NHS has been a key topic in the early days of the election campaign, with Labour also claiming they could…


Please follow article at original source BBC top news