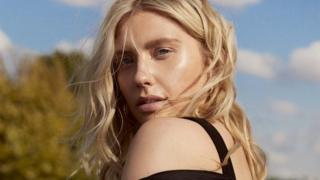 "Everyone thinks I went into a hole… never to return. It's been too long."
Ella Henderson's fans have had a long, patient wait for new music.
After a second album that was hinted at – but never materialised – she's finally back with her first solo material in five years, her Glorious EP.
She says there have been "ups and downs" over the years – which is probably an understatement considering all that's happened since her appearance as a 16-year-old on the X Factor in 2012.
"A lot of my life as a teenager was mental," she tells Radio 1 Newsbeat, on a break from rehearsals for an upcoming London show.
Back in 2012, a 16-year-old Ella was one of the stand-outs of that year's series of X Factor and, despite not winning (James Arthur was the champion), she was soon signed by Simon Cowell's record label Syco.
Then came a number one single (Ghost – an absolute banger) and a number one album, Chapter One.
But her record deal came to an end pretty quickly afterwards and she found herself unsigned.
"There were moments of self-doubt and insecurity and I'd be lying if I said I woke up every day happy."
At that point, she took some time off and went to Austria.
"I went to this health farm place. I came off social media and I put my phone away. There were no TVs around me. I just met people and created solid relationships.
"I actually took a notebook…


Please follow article at original source BBC top news