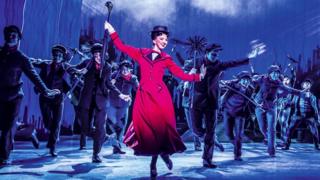 The stage adaptation of Mary Poppins is not the kind of show where the actors can afford to let their concentration lapse.
There are several precise and tricky cues for the cast to hit across the three-hour West End production.
Props have to appear from (or disappear into) thin air. There are magic tricks. Characters dance upside down on the ceiling. There are scenes that involve complex choreography, kite flying and statues coming to life.
It's a testament to how tightly rehearsed the show is that nothing went wrong at the show's opening night on Wednesday.
"It does sometimes!" laughs Zizi Strallen, who plays the legendary leading role. "But there are contingency plans, that's the beauty of live theatre, and it's my job to cover it up as well if it does go wrong."
The most complicated part of the show, she says, is a scene which will be familiar to fans of the original 1964 film starring Julie Andrews, where Poppins is seen somehow pulling huge items out of a relatively small handbag.
"Not only am I singing and being Mary Poppins, I'm then essentially doing magic tricks," Strallen explains, crediting the magic specialist who was hired to teach her. "There's a magic teapot,…


Please follow article at original source BBC top news