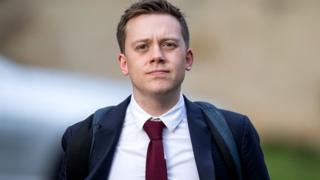 Guardian columnist Owen Jones has been the subject of an "unrelenting" campaign of abuse by far-right sympathisers, a court has heard.
Mr Jones, 35, made the comments during a hearing of a man accused of launching a homophobic attack on him at the Lexington pub in Islington last year.
James Healy, 40, allegedly targeted Mr Jones because of his media profile as a left-wing and LGBQT rights activist.
He admits the attack but denies it was motivated by Mr Jones's sexuality.
The defendant said he did not know who Mr Jones was, claiming he assaulted him because he barged him inside the north London pub, spilling his drink, and did not apologise.
Mr Jones suffered cuts and swelling to his back and head and bruises all down his body in the assault which happened on his birthday night out on 17 August.
In his evidence at Snaresbrook Crown Court, Mr Jones said: "I'm…


Please follow article at original source BBC top news