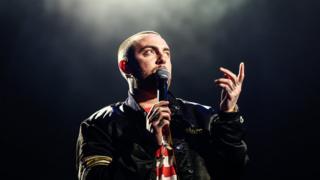 Before Mac Miller died in 2018, he was working on an album called Circles.
The songs were being finished with the help of songwriter and producer Jon Brion, who went on to complete the album after Mac's death.
The rapper's family decided to release the album, which is out today, saying in an Instagram post that it's a "complicated process that has no right answer".
There can be concerns over whether putting out someone's music after they've died is the right thing to do, with fans worrying about the impact it might have on artist's legacy.
"I think sometimes the families try and capitalise on the music in a way that's not what the artist would've wanted", says 26-year-old Henry Dean.
He's a photographer and Mac Miller fan, and he worked with the rapper a few years ago on a magazine shoot. He spoke to Radio 1 Newsbeat at a free event to celebrate the UK release of the new album.
"Posthumous music is a murky area. I'm always sceptical of whether it's being handled right. Obviously, I don't know Mac's inner circle so I can't judge.
"Artists have banks of thousands of songs and not all of them…


Please follow article at original source BBC top news