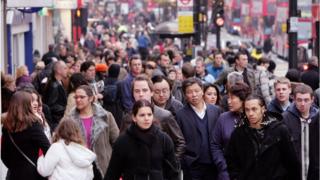 Retail sales fell again in December as a Christmas shopping spree failed to materialise.
Sales volumes fell by 0.6% from November, the fifth month in a row without growth, the Office for National Statistics said.
It comes amid worries about economic growth and forecasts that the Bank of England could cut interest rates soon.
Food stores were hard hit, with the quantity bought falling by the biggest amount since December 2016.
"Anecdotal evidence from a number of stores stated that goods did not sell as well as expected," the ONS said.
The latest figures are published as UK High Streets continue to face tough trading conditions, with big chains such as Mothercare and Thomas Cook going bust in recent months.
The December 2019 figures, unlike those for the same month in 2018, include Black Friday sales, but the ONS said it had seasonally adjusted its data to account for this shift.
Trading statements for the Christmas season from the country's biggest supermarkets had already indicated that households spent less on festive fare in 2019 than they had the previous year.
Sales at food stores fell 1.3% in December from the previous month, the ONS said.
Department stores were also under pressure, with sales down 1.8% month-on-month, as were clothing stores,…


Please follow article at original source BBC top news