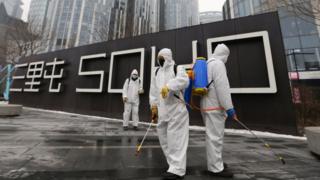 Beijing has ordered everyone returning to the city to go into quarantine for 14 days or risk punishment in the latest attempt to contain the new coronavirus, state media report.
Residents were told to "self-quarantine or go to designated venues to quarantine" after returning to the Chinese capital from holidays.
The measure came as Egypt confirmed the first coronavirus case in Africa.
Over 1,300 people have died from the virus, which originated in Wuhan city.
The notice on Friday from Beijing's virus prevention working group was issued as residents returned from spending the Lunar New Year in other parts of China.
The holiday was extended this year to help contain the outbreak.
In China alone, more than 63,000 people have been infected with the virus, and 1,381 have died.
Outside China, there have been 505 cases in 24 countries, and two deaths.
A World Health Organization (WHO)-led mission to China will start its outbreak investigation work this weekend, focusing on how the virus is spreading and its severity, director Tedros Adhanom Ghebreyesus said.
The mission, including international experts, will also look at how and when more than 1,700 health workers contracted the virus.
What is the…


Please follow article at original source BBC top news