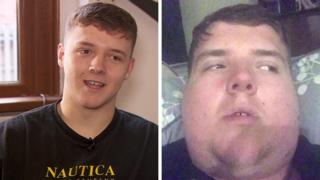 Health officials are urging people to have both parts of the MMR vaccine after cases of mumps in England reached their highest level in a decade.
Outbreaks in universities and colleges raised the number of cases of the painful viral illness to 5,042 in 2019 – four times the number in 2018.
Most were in young adults who missed out on the MMR jab.
Public Health England said the full two doses of the vaccination were needed to maximise protection.
The vaccine prevents most cases of mumps – but not all, and so some young people are still getting the illness.
There were also increases in mumps cases in Wales and Scotland in 2019.
What is mumps?
It is a viral infection that used to be very common in children before the MMR (measles, mumps and rubella) vaccine was introduced in the UK in 1988.
A classic sign is puffy cheeks under the ears.
Mumps is contagious and spread through infected droplets of saliva breathed in through the mouth or nose.
What are the symptoms?
painful swelling of the glands at the side of the face
headache
fever
joint pain
feeling tired
loss of appetite
Most people usually recover without treatment.
But in rare cases, there can be serious…


Please follow article at original source BBC top news