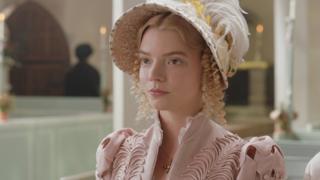 There are plenty of screen adaptations of Jane Austen's Emma – faithful ones like the earliest BBC version of 1948 to Clueless, which moved the action to 1990s California. Director Autumn de Wilde's film returns Emma to Regency England – but with a lot to say about life in 2020.
De Wilde made her name as a stills photographer and directing videos for bands like Florence + The Machine and Death Cab for Cutie.
It's not a career path automatically associated with someone making her feature film debut with a Jane Austen adaptation. But de Wilde is a far from standard Hollywood product and her love for the story is obvious. She's fascinated by what Austen's insights still tell us today.
"I didn't care about modernising the world that Emma exists in but I did care about humanising it for a modern audience," she says.
"We still have the same set of problems. There are…


Please follow article at original source BBC top news