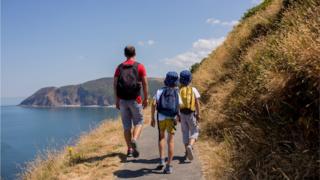 Britons are missing out on daily doses of nature, the National Trust has warned – as it called for people to "actively experience" the outdoors.
More than 70% of children say they rarely or never watch clouds, butterflies and bees, a survey said.
It also found that most adults had rarely or never listened to birdsong or smelled wild flowers in the past year.
A study found people who regularly connect with nature were more likely to help tackle the crisis facing wildlife.
Published by the National Trust with the University of Derby, the study also suggested that being connected with nature – noticing natural phenomenon every day – is linked to higher well being.
It comes as the trust has launched a new campaign to boost people's connection with nature, which includes a new week-by-week guide to help people improve their relationship with the natural world and take action to help halt wildlife declines.
It will feature tips to connect better with nature, including watching the sunrise, listening to birdsong and watching butterflies and bees, the trust said.
There will also be recommended activities in the guide, such as planting something to grow in the garden, sketching a flower or animal or building a hedgehog home.
The campaign will also include billboards…


Please follow article at original source BBC top news