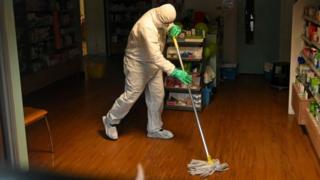 Coronavirus has been seen in more than 30 countries, with signs it is getting a foothold in Europe. But what is the government planning to do if there is a major outbreak in the UK and how prepared is the NHS?
The hope is it can still be contained
The government has said the UK is prepared for all eventualities.
But ministers and health officials are still working on being able to contain any outbreaks in the UK.
That involves spotting any cases quickly, isolating them and chasing up any contacts they have had to ensure they do not spread it if they have been infected. This is being done by Public Health England's (PHE) nine regional teams. The devolved administrations have their own arrangements.
So far it has worked well. There have been 13 cases – but all have involved infection abroad in China and other Asian countries.
There has been no transmission within the UK, but even if there is, that does not mean containment is defeated. If the authorities can chase the links in the transmission chain, they have a good chance of stopping its spread.
There is obviously concern that more countries are seeing cases, particularly those in Europe where there is more frequent travel to and from the UK.
So what happens if containment fails?
Containment should not be seen as a win-or-lose game. Even if it fails, it will have bought the UK valuable time….


Please follow article at original source BBC top news