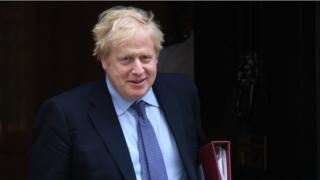 The government will publish its strategy for post-Brexit trade talks later, as it prepares for formal negotiations with the EU to begin.
Brussels has already set out what it wants from the talks – tariff-free trade but keeping EU rules on state aid, workers rights and other issues.
The plan received a cool reception from No 10, with the PM saying he is prepared to walk away without a deal.
The government's strategy will be put online and presented in Parliament.
The UK officially left the EU at the end of January, but is continuing to abide by many EU rules while talks on a permanent trading relationship take place.
Boris Johnson has pledged to get a deal with the EU by the end of the so-called transition period – 31 December 2020 – and has said he is not prepared to extend that deadline.
But critics say leaving without an agreement and going to World Trade Organisation rules – the terms countries use to set tariffs (taxes) on goods when they do not have free-trade deals – could damage the economy.
Negotiations are due to start in Brussels on 2 March.
'Smooth process'
The UK's team will be lead by Mr Johnson's Europe adviser David Frost. The chief negotiator of the Brexit withdrawal…


Please follow article at original source BBC top news