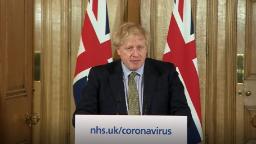 A funeral service is held without family members in Zogno cemetery in Bergamo, Italy, on March 21.
A member of the Syrian Violet relief group disinfects tents at a camp for displaced people in Kafr Jalis village, Syria, on March 21.
A doctor examines Juan Vasquez inside a testing tent at St. Barnabas Hospital in New York on March 20.
A Mass in Rio de Janeiro honors coronavirus victims around the world on Wednesday, March 18.
Medical staff wearing protective suits ride down an escalator at Moscow's Sheremetyevo International Airport on March 18.
A patient in a biocontainment unit is carried on a stretcher in Rome on March 17.
A pedestrian walks a dog through a quiet street in New York on March 17.
People gather to collect free face masks in New Delhi on March 17.
Students at the Attarkiah Islamic School wear face masks during a ceremony in Thailand's southern province of Narathiwat on March 17.
People wait outside a Woolworths store in Sunbury, Australia on March 17. Australian supermarket chains announced special shopping hours for the elderly and people with disabilities so that they can shop in less…


Please follow article at original source CNN top news