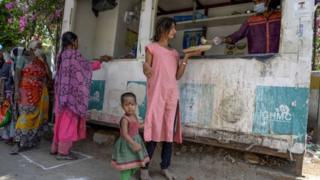 More than 30 million lives around the world could be saved during the coronavirus pandemic if countries act quickly, a report from Imperial College London researchers suggests.
The ideal strategy is to introduce widespread testing and strict social distancing measures rapidly.
Acting early could reduce mortality by as much as 95%, the report finds.
But lower-income countries are likely to face a much higher burden than wealthier nations.
Researchers from Imperial College in London looked at the health impact of the pandemic in 202 countries using a number of different scenarios, and based their estimates on data from China and high-income countries.
Doing nothing to combat the virus would leave the world facing around 40 million deaths this year, the report says.
Social distancing – to reduce the social contacts in the general population by 40% and among the elderly and vulnerable population by 60% – could bring this down by about half.
But health systems in all countries would still be quickly overwhelmed, the report adds
If countries adopt stricter measures early – such as testing, isolating cases and wider social distancing to prevent transmission to more people – 38.7 million lives…


Please follow article at original source BBC top news