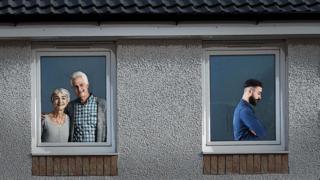 With the UK on coronavirus lockdown, some young people have been forced to isolate alongside parents who don't accept their sexuality.
After the coronavirus outbreak suddenly ended a UK tour he was performing in, Sam, 23, a dancer, from Birmingham, says he had "no choice" but to move back to his "strict" Christian family home.
"I saw the career I love disappear overnight, and now I'm stuck in isolation with homophobes."
Even though Sam chose to return home, he says he is "struggling" because he can't be himself.
"My mum says that homosexuality is an evil disease and that the devil is making me gay. She loudly prays every day that I'll be delivered from sin and find a wife.
"I genuinely have nowhere else to go during this mad time, so I'm just putting up with the abuse."
Sam came out to his mum and dad while at university, thinking he would never live with his parents again.
"They didn't take it well at all and time hasn't changed things," he adds. He says when he started working in the theatre, his dad told me him be "careful" of homosexual men.
Sam says he feels like the LGBT community has forgotten people like him.
"I see on social media that people are so busy filming home workouts, and holding online parties, that they don't realise there are people like me struggling to stay alive right now. Not because of the coronavirus, but because of their sexuality."
'If I walk into a room they leave'
Nicky, 19, is a…


Please follow article at original source BBC top news