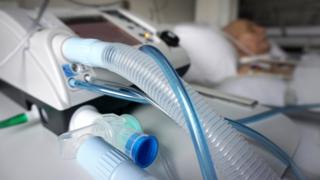 The government says a communications mix-up meant it missed the deadline to join an EU scheme to get extra ventilators for the coronavirus crisis.
Ministers were earlier accused of putting Brexit before public health when Downing Street said the UK had decided to pursue its own scheme.
But No 10 now says officials did not get emails inviting the UK to join and it could join future schemes.
Labour is demanding to know why the government had changed its message.
The party's shadow Health Secretary Jonathan Ashworth said: "Given the huge need for PPE, testing capacity and crucial medical equipment including ventilators, people will want to know why on Monday ministers were saying they had 'chosen other routes' over the joint EU procurement initiatives but now they are claiming that they missed the relevant emails.
"We need an urgent explanation from ministers about how they will get crucial supplies to the frontline as a matter of urgency."
He has said the UK "should be co-operating through international schemes to ensure we get these desperately needed pieces of kit".
The EU has said the UK can take part in the procurement project, which will use the EU's buying power to purchase more stock, even though it is no longer a member of the bloc.
But earlier on Thursday, Downing Street said the UK would not be joining the scheme because "we are no…


Please follow article at original source BBC top news