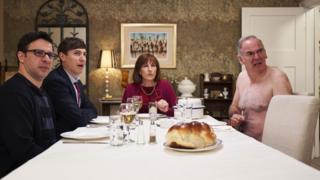 At a time when many of us are having to stay away from our family, it's business as usual round at the Goodmans – in other words, collective chaos.
If you're unfamiliar with this foursome, they're the fictional stars of Channel 4's Friday Night Dinner – an anarchic sitcom where the degree of farce borders on the insane.
As the title suggests, the set-up is in theory benign, cosy even. A secular Jewish household – mum, dad and their two grown-up sons – come together each week in the family home to mark the start of the Sabbath.
Soup, chicken and "crimble" crumble are always on the menu and yet the Goodmans never get to eat.
Mayhem ensues within minutes of the brothers stepping through the front door. It starts with their compulsive pranking of each other. But as the evening goes on, a series of random surreal events leads to family meltdown – and dinner ruined.
The show, which starts its sixth series this week, is the creation of Robert Popper, whose previous credits include Peep Show, South Park and The Inbetweeners.
Popper, who is Jewish, had his Eureka! moment for a comedy which played with the oddities of family dynamics, particularly those in a Jewish family, while musing in the bath.
"I decided I wanted to do a show about a family and the feeling you get that when you go home you revert to being kids again," he says.
"I used to go home on…


Please follow article at original source BBC top news