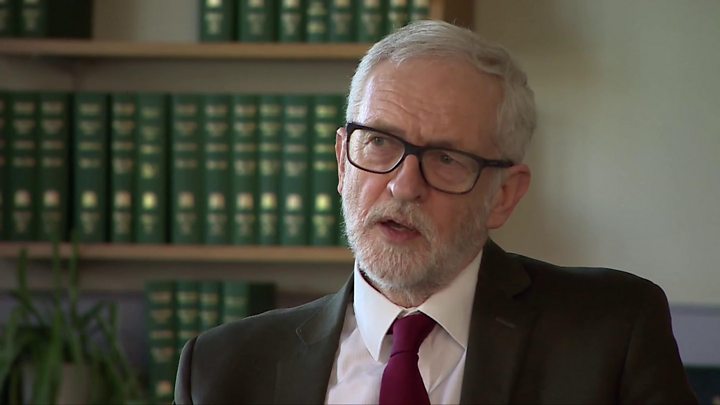 Jeremy Corbyn says the government's response to coronavirus proves he was "absolutely right" about public spending at the 2019 general election.
The Labour leader told the BBC he had been "denounced as somebody that wanted to spend more money than we could possibly afford" to fix social wrongs.
But he said he had been vindicated by the vast sums the government was spending on the current crisis.
The Tories now realised they had to "invest in the state", he added.
In an interview with BBC's Political Editor Laura Kuenssberg, Mr Corbyn said that the country had been "ill-prepared" for the coronavirus pandemic because of "10 years of austerity, of underfunding the National Health Service and underfunding our benefit system".
He said the government had been "shocked" by the national emergency, as their "instincts" were for "free market economics and the small state".
"They've now suddenly realise that they have to spend money to invest in the state, as we have always said as a party, and they have come around to a lot of that position."
'We need everybody'
Mr Corbyn said the government had also failed to realise how many people were in "insecure" employment in the UK when they drew up their response to the emergency.
But he believed that the pandemic had changed the political…


Please follow article at original source BBC top news