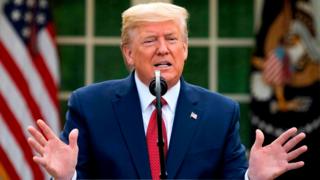 US President Donald Trump has said coronavirus restrictions such as social distancing will be extended across the country until at least 30 April.
"The highest point of the death rate is likely to hit in two weeks," Mr Trump said on Sunday, adding: "Therefore we will be extending our guidelines."
Dr Anthony Fauci, the face of the Trump administration's coronavirus task force, earlier warned that the virus could kill up to 200,000 Americans.
The US has 139,675 confirmed cases.
As of Sunday evening, 2,436 deaths had been recorded in the country in relation to Covid-19, according to figures collated by Johns Hopkins University.
The United States overtook both China and Italy last week for the number of reported cases.
Dr Fauci said that it was "entirely conceivable" that millions of Americans could eventually be infected and that between 100,000 and 200,000 could die.


Please follow article at original source BBC top news