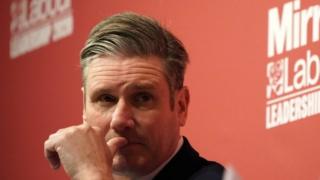 Even before the coronavirus emergency, the next Labour leader was facing a formidable set of challenges.
Here is what is likely to be at the top of Sir Keir Starmer's in-tray.
Coronavirus
In February, Sir Keir Starmer said that if he won the Labour leadership he would use the Commons to attack Boris Johnson as "a prime minister with no conviction or principles".
But that was before the coronavirus pandemic changed everything.
Now, in the midst of an unprecedented national emergency, with MPs working from home, and the prime minister in isolation, that is not really an option. He will need to find a way of holding the government to account – and asking tough questions – without getting personal or appearing to score political points.
He set the tone in his victory message, saying: "Under my leadership we will engage constructively with the government, not opposition for opposition's sake.
"Not scoring party political points or making impossible demands. But with the courage to support where that's the right thing to do."
But, he added, Labour would "test the arguments that are put forward" and not be afraid to call out the government "where we see mistakes" or "things not happening as quickly as they should".
He may find it difficult to get a hearing at all. Amid the public's coronavirus concern, it's not party politics as usual. Conservative…


Please follow article at original source BBC top news