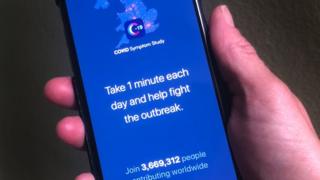 The UK's scientists have been trying to trace Covid-19's path through the population ever since the coronavirus arrived on British shores.
In what is thought to be the largest study of its kind in the world, an app developed by King's College London (KCL) and technology company Zoe, which tracks symptoms of the disease, has been downloaded more than three million times in the UK.
Not to be confused with the government's contact-tracing app, the Covid-19 Symptom Study app allows users to report daily whether they feel healthy, and record any symptoms.
The scientists have been using the data to estimate how the virus may have travelled through the population. Here are some of the things the app has taught us so far:
1. Infections actually rose after lockdown
When Prime Minister Boris Johnson called the UK lockdown on Monday 23 March, there were "a lot of infected people who suddenly were stuck together, and they infected each other", says KCL epidemiologist Prof Tim Spector.
The peak of the epidemic came nine days later, the researchers believe, on 1 April. They estimate more than two million people aged 20-69 had Covid-19 symptoms in the UK at this point – or 50 in every 1,000 people. The researchers found their app recorded a peak in infections around two…


Please follow article at original source BBC top news