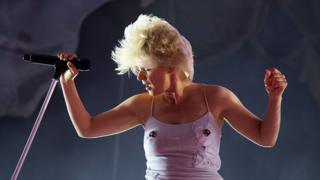 "There's a big black sky over my town."
That line from Dancing On My Own is Robyn's love letter to the weather in her home city of Stockholm, Sweden.
It's one of her two favourite lyrics from the track, which has just turned ten years old.
It also happens to be my favourite song of all time.
That means I've spent a decade of dancing and singing to it at clubs, festivals and in friends' kitchens. It's soundtracked some of the most personal moments in my life.
Under recent lockdown, it's been viewed in another new light with an accompanying TikTok challenge from Robyn herself.
Like many other people, I love the bittersweet combination of hearing something so uplifting yet so heartbreaking.
There are so many highlights but Robyn tells me her other favourite line is: "I just wanna dance all night."
At that point in the song, she's already taken us to the club where we're watching her ex kiss a new partner. We've all been there, right?
She says it represents the precise moment on the dancefloor when you have to get your "desperation, frustration and sadness out".
It's been described as the "ultimate sad banger".
With its multiple cover versions and the number of films and TV shows it's popped up in, the song is considered a classic with outlets like Rolling Stone, NME and Stereogum all ranking it as the best song of the last decade.
How the song…


Please follow article at original source BBC top news