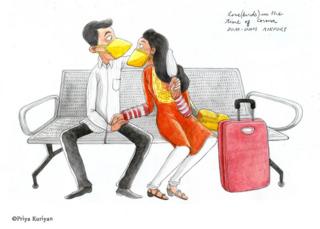 Cartoonist Priya Kuriyan has drawn a series of pictures showing how masks became the new normal across India – even before a stringent lockdown was put in place on 25 March.
Ms Kuriyan says her art was inspired by her neighbours, as well as people she saw at the airport when she took a flight from the southern city of Bangalore to visit her friend in the eastern city of Kolkata (formerly Calcutta).
This was before masks were made mandatory and flights grounded. However, the threat of Covid-19 had just begun to emerge so some people had already begun wearing face coverings as protection.
"At that point, we had no idea of the disarray the next few months would bring," she says.
Her cartoons are humorous snapshots of people, trying to live their normal lives amid the backdrop of the looming pandemic – like the honeymooning couple in the first picture, who Ms Kuriyan says seemed "determined to get their honeymoon to a flying start".
The next image – of "Batman" landing at the Kolkata airport was during a time she says that bats were being discussed in great detail within the context of the coronavirus' origins.
"Information…


Please follow article at original source BBC top news