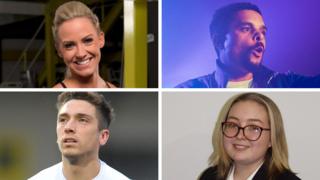 "Never known anything like it in my lifetime."
That's a line we'll all have heard it in the 100 days since Boris Johnson announced the coronavirus lockdown on 23 March.
Normally it'd be something your nan might say. For Telford in Shropshire, it's true of an entire town.
Throughout the last 100 days, Radio 1 Newsbeat has been in touch with people in Telford about how lockdown has changed them and their lives.
There's the local footballer who has no idea what will happen to his career, the personal trainer who had to change her business overnight and the rapper who thought 2020 would be his best yet.
'A great place to grow up'
Telford has only existed since the late 1960s – built then to offer new housing to people from much busier cities. After 50 years, it's still called "a new town".
"It's got a perfect blend of rural and urban," 18-year-old Molly Morgan tells us about her hometown. "It's a great place to grow up."
"I've grown up here, my family's here, my future's here," adds personal trainer Esther Williams.
"It's got a great community. When I was younger, I'd have gone to Birmingham or Wolverhampton for the day but now there's so much to do in Telford."
Telford was a far more ambitious project than other new towns of the era, like Stevenage and Crawley.
The aim was for 225,000 people to live there by…


Please follow article at original source BBC top news