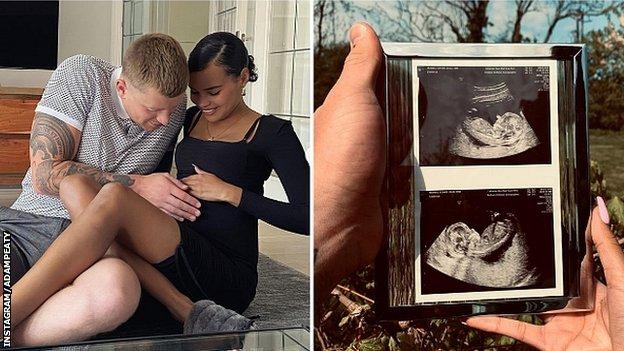 "My son will be mixed race. I want him to be judged on his achievements, not his skin colour."
Adam Peaty has never shied away from a challenge. Nine world records, Olympic, World, European and Commonwealth titles – as well as a six-year unbeaten record in the 100m breaststroke event – the result of a relentless pursuit for perfection.
However, the swimmer is set to become a father in September and with that has come a new mindset and focus which goes beyond his prowess in the pool.
"Swimming is a very white-based sport because culturally we don't really reach out to those communities to get them involved," he said.
"I want to start to create that positive environment for people where no matter what race, what age or background they can be part of it."
In a wide-ranging interview with BBC Breakfast's Sally Nugent, Peaty discusses fatherhood, improving diversity in swimming, his mental health battles and the Tokyo Olympics.
'I was in Australia when I found out I was going to be a father'
Peaty, 25, and his partner Eiri Munro, 22, met in November last year and bonded quickly, despite the swimmer's busy schedule in which he headed to Australia early in the new year.
"I was phoning her every couple of days and then she said she wasn't feeling well, so she took a pregnancy test and said she'd ring me back," revealed Peaty.
"I knew everything was going to change from there, but it's been amazing."
He insisted:…


Please follow article at original source BBC top news