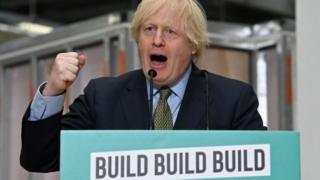 The prime minister has set out how £5bn worth of infrastructure projects would be spent in order for the UK to "bounce back better". Boris Johnson compared his plan with former US President Franklin Delano Roosevelt's New Deal.
Reality Check has taken a closer look at some of the announcements:
'New deal'
Boris Johnson said: "It sounds like a New Deal… because that is what the times demand."
In the early 1930s, the New Deal programme increased the state's role in the economy and was designed to help the US recover from the Great Depression.
Comparisons between government programmes in different countries, 90 years apart, are very difficult to make – our economies have changed out of all recognition.
Also, there are strong arguments that it was Roosevelt's structural reforms involving things like banking and social security that brought about the recovery.
Nonetheless, there have been a few valiant attempts at trying to get New Deal spending into some sort of modern context.
Remember that the New Deal ran over several years, with spending each year between about 5% and 7% of the total output of the economy (GDP) each year.
Boris Johnson's £5bn would be less than a quarter of one percent of GDP if it were spent in a single year (which is unlikely).
To get an idea of the scale of increased government spending in the 1930s, US federal…


Please follow article at original source BBC top news