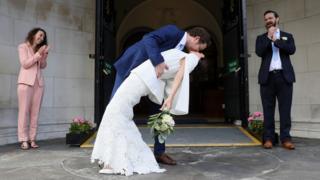 From 4 July, the ban on weddings in England will be lifted – but with some strict rules.
Only 30 people are allowed to attend, singing is discouraged and receptions as we know them are out of the question. Four couples describe how their plans have changed.
'Not what we wanted, but still lovely'
Joe Howard is still going ahead with his wedding to fiancee Victoria on 11 July, in Norwich's St John the Baptist Cathedral – but with just a fifth of the guests.
When lockdown was introduced, they had already done "months and months of planning for a 150-people wedding," says Joe. "We had 250 people invited if you include the reception.
"We have moved the reception to October but the wedding is staying in July."
There haven't been any weddings in England since the day lockdown began, on 23 March – apart from in special…


Please follow article at original source BBC top news