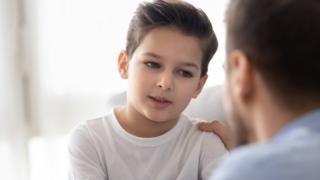 Young people are facing "unprecedented threats" to their futures from the Covid-19 pandemic, and should be prioritised, says a group of charities.
Children are "in an eerie world, full of uncertainty", say 146 organisations.
In a letter to the prime minister, they urge government to put children's needs on a par with health and the economy to stop their life chances being derailed.
The government said that "throughout the pandemic we've prioritised children's safety and wellbeing".
The charities and other bodies, including Action for Children, Barnardo's, the National Children's Bureau, NSPCC, the Children's Society, Unicef UK and the Child Poverty Action Group, say Covid-19 "threatens to cast its shadow" over the young for years to come.
"They do not know when they can go back to school. They worry about when they can see friends and family. They are anxious about family finances," they warn.
"We know this uncertainty and worry will lead to anxiety and mental health problems.
"We know closed schools will damage the educational attainment and life chances of children – the poorest the most.
"We know black, Asian and minority ethnic communities will be hit the hardest.
"We know…


Please follow article at original source BBC top news