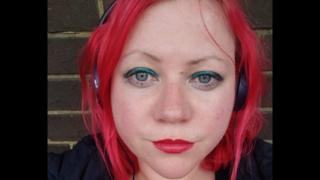 Seaneen Molloy's panic attacks stopped when the coronavirus pandemic started. But as restrictions begin to ease, the writer and charity worker from Northern Ireland describes how her anxiety has returned.
As the rules begin to relax, I'm not sure that I can.
I can't remember what it feels like to be at ease around people. I can't remember not knowing what the words "social distancing" meant.
I felt least afraid when it all began.
Some people were plunged into a state of anxiety and panic, but not me. I have an anxiety disorder and was in a constant state of panic anyway, always fearing death. But for once, I wasn't alone and the national crisis was oddly comforting.
The panic attacks that had plagued me every single night for years stopped abruptly when Boris Johnson announced lockdown on 23 March.
It was strange to feel liberated, while the rest of the world freaked out. I felt like the calmest person in the room.
I wasn't alone. University College London reported in the early weeks of lockdown that despite an initial decline in happiness, wellbeing had actually risen and anxiety levels had fallen for people with and without mental health disorders.
Life got slower, quieter and smaller. There was no rushing around for school runs, crushed commutes, trips to the pubs we didn't really want.


Please follow article at original source BBC top news