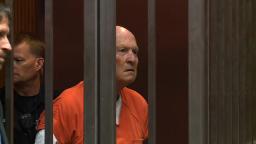 As part of the plea deal, prosecutors from the counties where Joseph DeAngelo committed his crimes read the specifics of each offense, laying out horrific details about him binding, robbing, raping, sodomizing, beating and killing various victims. After one double murder in 1979, a prosecutor, DeAngelo snacked on leftover Christmas turkey from a victim's fridge and left the bones behind.
DeAngelo, who is also accused of committing
more than 50 rapes
during his killing spree between 1975 and 1986, has agreed to plead guilty to each individual crime, prosecutors and his defense team said. Hours into the lengthy hearing, he had already confessed to several murders.
The defendant appeared before Superior Court Judge Michael Bowman at the Sacramento State University Union Ballroom, a venue chosen to allow for social distancing. Dressed in a prison jumpsuit and appearing frail, DeAngelo and his defense team wore clear plastic face guards as they sat on a dais to Bowman's left.
When the lengthy hearing has concluded, he will have pleaded guilty to 13 counts of first-degree murder and special circumstances (including murder committed during burglaries and rapes), as well as 13 counts of kidnapping, the prosecution said. He will also informally admit to numerous other crimes, it said.
DeAngelo was known by many names. After committing scores of burglaries as the Visalia Ransacker, DeAngelo's crimes became more violent in 1975,
with the slaying of Claude Snelling
, prosecutors allege….


Please follow article at original source CNN top news