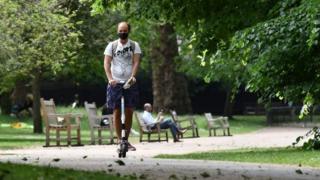 Rental e-scooters are expected to become legal on UK roads from Saturday, in a bid to ease pressure on public transport amid the coronavirus crisis.
The government will set out later the rules by which e-scooter-for-hire firms and riders should abide.
It is expected to recommend that helmets be worn, although they will not be mandatory, and vehicles will be limited to a speed of 15mph.
Privately owned e-scooters will not be legalised.
Under the new rules to be set out by the Department for Transport, e-scooter companies could launch scooter-sharing schemes in UK towns and cities and it will be legal to ride one of these scooters on the road from Saturday.
It is hoped the first rentable e-scooters could be up and running in Middlesbrough from early next week, said BBC transport correspondent Tom Burridge.
Some 50 local authorities have expressed an interest to the government in having e-scooter trials.
Scooter-sharing schemes have previously faced criticism over dumped scooters, which have been a problem in Paris, so local authorities will need to establish rules to avoid vehicles being…


Please follow article at original source BBC top news