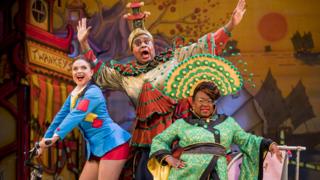 Oh yes it is. Oh no it isn't. The big question facing many theatres at the moment is – is panto season cancelled?
Norwich Theatre Royal became one of the first to call off its pantomime this week, saying the risk was "too great" after three months with no income.
Venues in Buxton and Welwyn Garden City have also cancelled, while Leicester Curve has scrapped its festive musical.
Pantos are crucial to theatre earnings, and this Christmas could prove to be make or break for some venues' futures.
Conservative MP Giles Watling, a former actor and panto dame, warned of the impact if festive shows are scrapped. "I think many provincial theatres will go to the wall, frankly, because that's the time they can make the money," he told BBC News.
"It puts money in the coffers to support the rest of the cultural offer. I can see massive problems ahead if something isn't done and soon."


Please follow article at original source BBC top news