George Pimentel/WireImage
Green Book screenwriter Nick Vallelonga has apologized for posting a tweet backing a debunked conservative narrative that American Muslims could be seen cheering after 9/11. "@realDonaldTrump 100% correct," the screenwriter tweeted Nov. 25, 2015. "Muslims in Jersey City cheering when towers went down. I saw it, as you did, possibly on local CBS news."
(At a political rally, Donald Trump said, "Hey, I watched when the World Trade Center came tumbling down. And I watched in Jersey City, New Jersey, where thousands and thousands of people were cheering as that building was coming down. Thousands of people were cheering." At the time, ABC's George Stephanopoulos challenged the presidential candidate on his claim.)
Vallelonga, who deleted his Twitter account Wednesday after his tweet recirculated online, issued his mea culpa Thursday amid growing backlash. "I want to apologize. I spent my life trying to bring this story of overcoming differences and finding common ground to the screen and I am incredibly sorry to everyone associated with Green Book. I especially deeply apologize to the incredibly brilliant and kind Mahershala Ali and all member of the Muslim faith for the hurt I have caused. I am also sorry to my late father who changed so much from Dr. Shirley's friendship and I promise this lesson is not lost on me," Vallelonga, 59, said in a statement. "Green Book is a story about love, acceptance and overcoming barriers, and I will do better."
Ali, who stars in Green Book alongside Viggo Mortensen, has not commented on the tweet.
"We find Mr. Vallelonga's Twitter post offensive, dangerous, and antithetical to Participant Media's values," Participant Media added in a statement. "We reject it in no uncertain terms."
Vallelonga's script is based on the experiences of his father, Tony Lip (Mortensen), driving a concert pianist, Dr. Don Shirley (Ali), through the Deep South for a tour in the early 1960s. Vallelonga has been accused of exaggerating the Lip and Shirley's friendship. Other details about the film have come into question—especially from some of Shirley's surviving relatives.
For months, Green Book has been making headlines for all the wrong reasons.
During a post-screening discussion in November, Mortensen used the N-word. He apologized, insisting he had only been trying to show how times were different. "I am very sorry that I did use the full word last night," the 60-year-old actor vowed (in part), "and will not utter it again."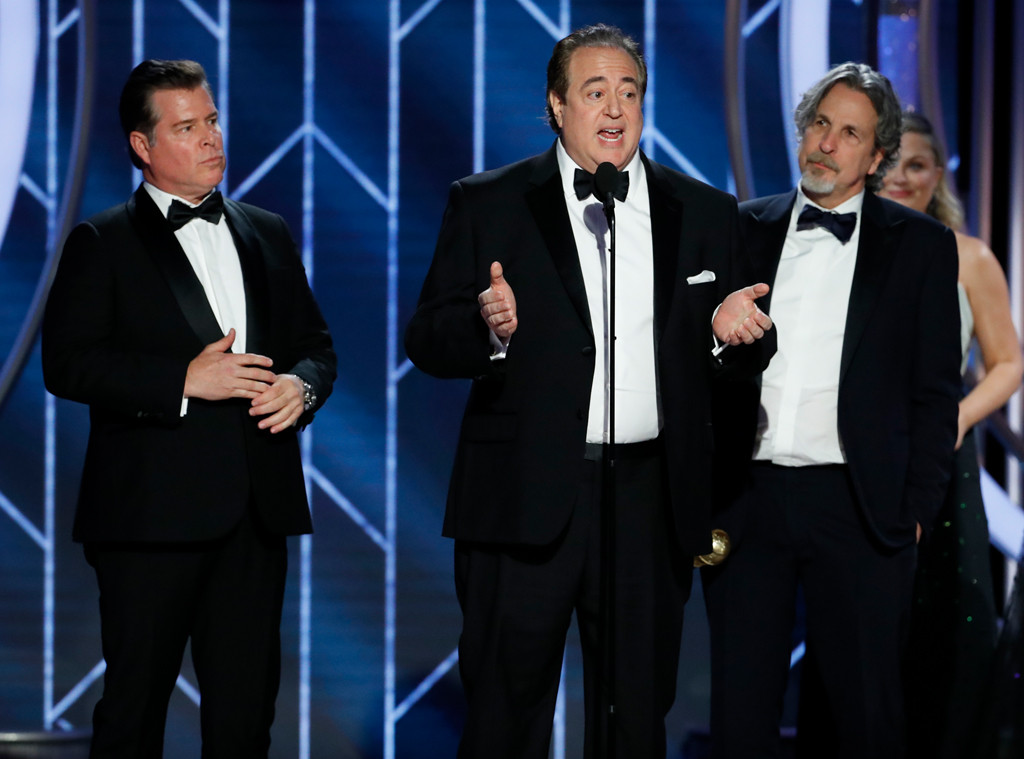 Paul Drinkwater/NBCUniversal
Earlier this week, director Peter Farrelly found himself embroiled in a scandal after The Cut unearthed decades-old interviews in which he admitted to flashing multiple actors. "True. I was an idiot," he told E! News in a statement. "I did this decades ago and I thought I was being funny, and the truth is, I'm embarrassed and it makes me cringe now. I'm deeply sorry."
Meanwhile,…


Credits to Eonline the original source, click to view more info on the article!